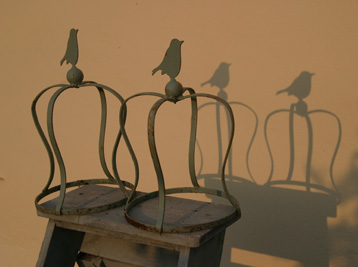 A Vintage Garden is owned and run by us, Phil and Jane Clift from the beautiful Hampshire town of Alresford.
We are renowned for our very unique wire garden selection made by ourselves. Biggest sellers are our rusty poppy seed head plant stakes, and Phil's double flower and insect stakes.
Finally (and most proud of) a bit about my wire sculptures….
Jane Clift
Wire Sculptor
"My sculptures are a representation of strength, wholeheartedness,
Warmth and softness"
Jane Clift lives in Alresford, Hampshire where she makes three dimensional sculptures.
Largely self taught, Jane comes from an artistic family and from an early age had exposure to art and music. She focussed on music which she went on to teach. In her early twenties, Jane won a place in the highly acclaimed National Youth Theatre where she appeared in a number of West End plays and a BBC Play for Today. She then toured the Country as stage manager for a one man show, including the Edinburgh Festival where they won the best Fringe award.
A few years ago, Jane had a serious accident which required a complete skin graft to her right hand and discovered weaving soft wire a fantastic therapy for regaining dexterity. The goal was to play the piano again, but she discovered a new love!
At this time, Jane launched a new business, "A Vintage Garden" and became known for finding unusual pieces of art for the outdoors. She started making wire sculptures for her garden, and very quickly took commissions. The first sculpture she sold was to another artist. Jane is inspired by movement, grace and humour.
In 2018 Jane became an associate member of the Devon Guild of Craftsmen and won the "People's Choice Award" for her sculpture at the Cockington Sculpture Trail in Torquay. Jane has regularly exhibited at the Contemporary Craft Fair in Bovey Tracey and many other leading art fairs around the country.
At A Vintage Garden we enjoy meeting people face to face to talk about our products, therefore we're always very pleased to see you at our various events posted in our events section. However, if you see something on the website that needs clarification, please get in touch! we're very happy to help.
Our business is growing by recommendation. Please tell others about A Vintage Garden and let the garden in.